12 Day India Highlights & Gems of Rajasthan with Taj Hotels
Booking Dates
12/18/2022 through 12/17/2023
Travel Dates
04/12/2019 through 12/31/2023
Provider
Kensington Tours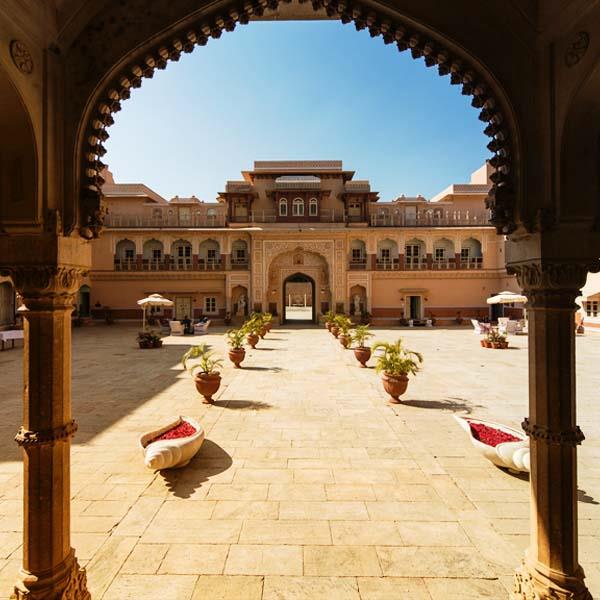 12 Day India Highlights & Gems of Rajasthan with Taj Hotels

Tucked away in the north-west corner of India, Rajasthan is India's largest state, dotted almost everywhere with opulent palaces and historic hill-forts, incredibly diverse scenery, vibrant traditional lifestyles and people with wide smiles on their faces. The enticing part is its extremes. You might be driving through a desert, admiring temples, yet soon after you could be engulfed by a sea of people, bright saris and the urgent shouts of street sellers.
Start your trip in Old Delhi. The heart of Old Delhi is a 400-year old tangle of lanes with colorful bazaars, complemented by vibrant temples, the towering minaret of Qutab Minar, and the UNESCO World Heritage Site of the Red Fort.
Next, we fly you to Udaipur, the city of lakes. The majestic white City Palace offers a spectacular view over Lake Pichola and you can enjoy a boat ride with your private guide. At Eklingji, about twelve miles north of Udaipur, you can stroll a vast maze of 108 temples, built to propagate the blessings of Lord Shiva, while the collection of crystals at the Fateh Prakash Palace might just take your breath away.
Situated on the boundary of the Thar Desert, your next stop Jodhpur is also called the 'Blue City'. You will understand why when your private guide takes you to the city's most magnificent building, the Mehrangarh Fort, located at a lofty height of 400 feet: most of the houses around the fort are painted blue. Travel by jeep to visit some traditional villages outside Jodhpur and mingle with locals dressed in their traditional attire. With some luck you might spot black buck, chinkaras or peacocks, freely roaming the countryside.
After the 'desertscapes' you just left behind, a tour through Jaipur reveals amazing colors. Virtually every building in the historical center is painted a terracotta pink, but they're in competition with flower markets, turban stalls, brightly painted careering buses, trucks and, yes, elephants. Admire the striking mix of Rajasthani and Mughal architecture of the City Palace and let your private guide explain the fascinating precision of the giant sundial next door at the 'The Observatory'. The number one attraction, of course, is the Amber Fort, a breathtaking construction of red sandstone and marble.
The conclusion of your trip to this thoroughly captivating part of the country, the Taj Mahal, is a fitting finale. A stunning monument to love and an exquisite example of Mughal architecture, it has captivated the hearts and minds of travelers for centuries. Crafted entirely from white marble, it is an architectural marvel, offering different moods of view depending on if you see it at sunrise or sunset. Many travelers opt to do both.
Kensington Tours creates private trips from the world's finest ingredients. Tailor-made with care by your personal Destination Expert, your personalized trip is always a one-of-a-kind experience made just for you. Expert local guidance and 24/7 service come standard.
| Day | Description | View All |
| --- | --- | --- |
| Day 1 | Delhi | Details |
| Day 2 | Delhi | Details |
| Day 3 | Delhi To Udaipur | Details |
| Day 4 | Udaipur | Details |
| Day 5 | Udaipur To Jodhpur | Details |
| Day 6 | Jodhpur | Details |
| Day 7 | Jodhpur To Jaipur | Details |
| Day 8 | Jaipur | Details |
| Day 9 | Jaipur To Agra | Details |
| Day 10 | Agra | Details |
| Day 11 | Agra To Delhi | Details |
| Day 12 | Delhi | Details |